"If only I had known"
Fact: 50 to 80% of mergers & acquisitions fail.
This book goes straight to the root causes of most of those failures, and hones in on the specific elements that senior and middle managers can use or develop to deliver an orderly business integration, a smoother experience for the individuals in the organisation, and the realisation of the benefits that the initiators of the merger had promised to deliver.
Get a tangible feel for the journey upon which you are about to embark, allowing you to check that the key elements discussed here are included in your integration plan and will be applied during its implementation.
"A first class reference source for delivering the business case of any merger or acquisition"
Prof. Christopher Bones
Dean, Henley Business School
University of Reading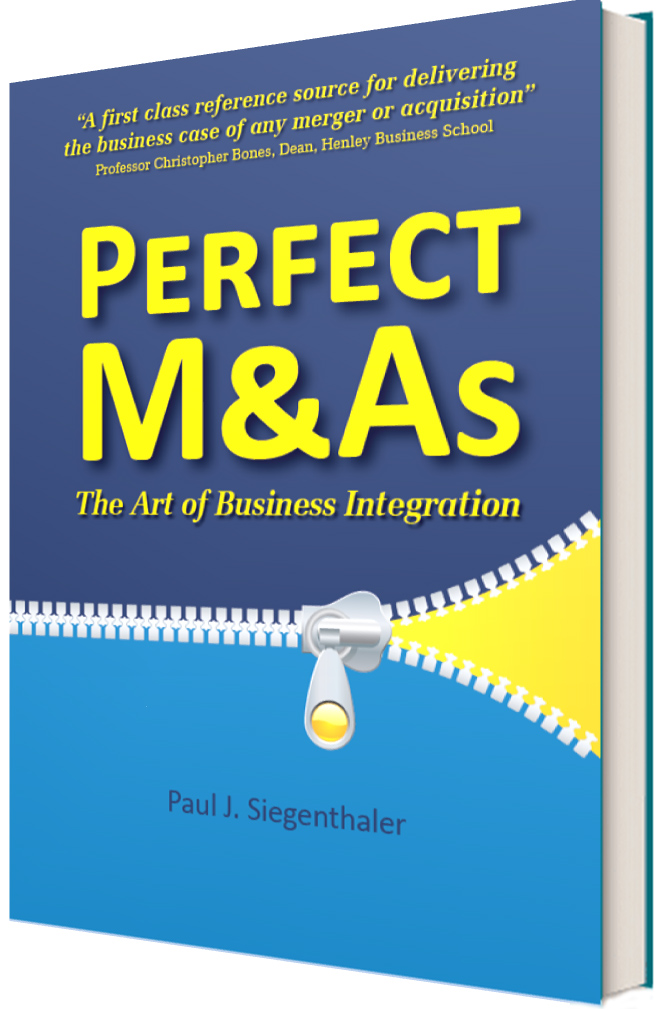 "I very much enjoyed your book…there were some really great ideas in it."
Ben de Haldevang, Director Post Deal Services, PricewaterhouseCoopers LLP, Singapore
__________________________________________________________________________
Comment left by one reader on Amazon.com :
"Incredible! After going through book after book that deals with business and corporate relationships in an almost robotic manner (charts, behavior models… how often does reality ever obey those?) I found this little gem. The author draws on a life of experience and remembers something most of his peers forget: he makes the book enjoyable. The biggest surprise with this book is what an incredible story it tells, each full of valuable insight, and it does so without that condescending tone prevalent in most academic literature. If you're at all interested in M&As, or for that matter international management, this book is for you!".
A book to be read by all those who are accountable for the outcome of an integration