Yahoo! chief executive Marissa Mayer's move to acquire the blogging website Tumblr for an astonishing $ 1.1 bn is indeed a bold one.  As a former Google executive Ms Mayer hopefully knows things about what makes a website "cool" and fashionable which we other mortals ignore : how else could one explain the rationale behind paying a premium of $ 300 million above the previous valuation of Tumblr ?
I felt some reassurance reading Ms Mayer's statement declaring that Tumblr would continue to operate independently so as "not to screw it up".  More importantly Tumblr's co-founder and 26 year-old chief executive Mark Karp will remain at the helm of Tumblr – or that is at least the initial intention.  Indeed, the huge challenge in this deal will be to insure that Tumblr with its young boss and 125 strong team who probably revere him as an icon – quite justifiably – can maintain the buzz, energy, creative enthusiasm and ability to "break the conventional rules" which characterize the most successful companies of the internet age.
The colour purple – will it run in the wash ?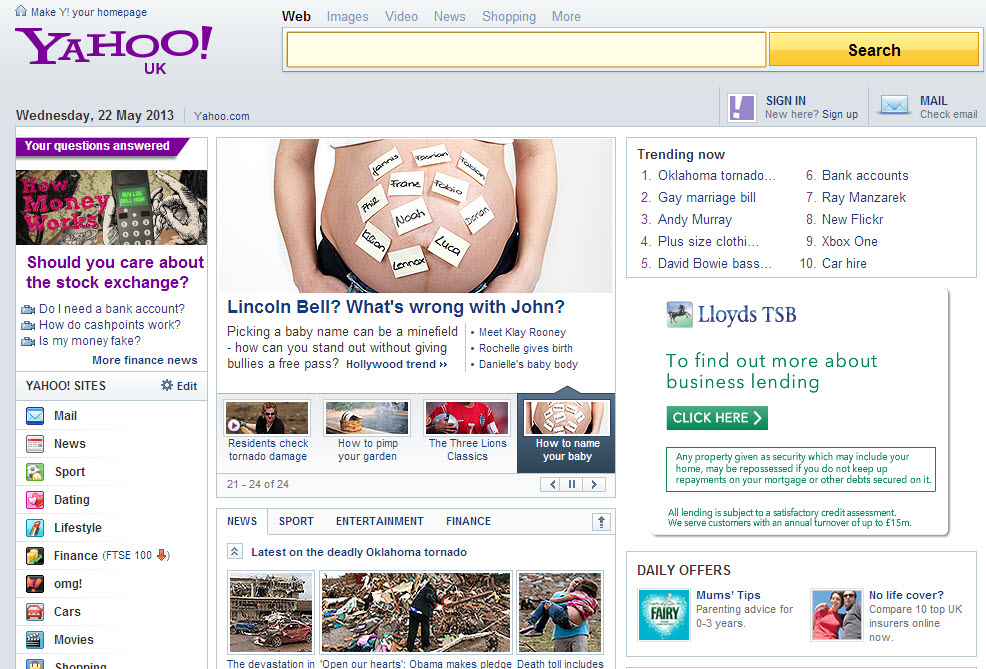 I don't subscribe to the view of those who believe that every bubbly creative exciting entrepreneurial company is doomed to becoming a boring fat corporation if it grows much larger, victims of its own success.  Huge companies such as Apple and Google are proof to the contrary, as is Virgin Group if we look beyond the frontiers of the technology sector; but it is true that those iconic companies are the exception rather than the rule.
Unsurprisingly, Tumblr's users are sceptical, as evidenced by tweets of "No, no, no, nooooooo!" and "Tumblr is about to suck".  Young Mark Karp is trying to reassure them, stating that "We're not turning purple".  I like the analogy, and personally I would be weary of mixing bright vivid colours with dark purple in a same wash-load …
When a high buzz "cool" company is united with another that has become lacklustre over the years, does the former's "coolness" revive the dull company, just as an antibiotic gets rid of an infection, or will it gradually dilute and fade away?  This is indeed the $ 1.1 billion question in the acquisition of Tumblr by Yahoo!
Solid business case or act of faith ?
If Yahoo! and Tumblr continue to operate and appear on the internet as totally distinct platforms, one fails to see what it is about Tumblr that will attract traffic to Yahoo!  It is hard to believe that the look and feel of Yahoo! would appeal to Tumblr users, and loading Tumblr with links to drive viewers to Yahoo! might cause frustration and irritation …  Tumblr is on the rise, Yahoo! is in decline, so it is quite clear which of the two is in urgent need of profound transformation.
"Coolness" is the outcome of a specific style, flair and contagious energy of the person or team at the helm of a business, which must percolate through the entire company.  What is it that makes a restaurant or bar "the" fashionable place to go to in a city?  There is no recipe for coolness and trendiness, and remaining on top of the "cool" wave requires an ability to constantly come up with something new as competitors are fast to copy whatever they believe consumers find so attractive.
There might be some transfer of knowledge and consumer insights from Tumblr to Yahoo! but $1.1bn is a high price to pay for that learning experience, if indeed it does occur.  For a start, it would not have cost much to redesign the Yahoo! interface as we all know that cluttered screens are a total turn-off for most audiences.  If that transformation does not occur fast, Yahoo! will be left with the continuing issue of declining audiences and the benefits case of the Tumblr acquisition will rest entirely on the ability to massively increasing income from advertising.  Whether Yahoo!'s current advertisers will want to associate their brands and services with some of the more politically controversial or sexually explicit content of the Tumblr platform remains to be seen.
Yahoo!'s track record in M&A is a mixed one; GeoCities which was acquired in 1999 was canned 10 years later.  A wave of further acquisitions in 2004-2005, notably that of Flickr, failed to infuse the "coolness" Yahoo! was seeking, but that was before the days of Marissa Mayer.  Yahoo!'s board and shareholders have made an act of faith in believing that Ms Mayer is the charismatic leader who will send a positive shockwave through the company, put the negativity of years of decline behind and turn Yahoo! into a stylish platform.  Let's hope they are right.
This kind of act of faith feels similar to wearing a new prototype of mechanical wings whilst standing on the edge of a cliff.  And then you jump : Yahoooooooooooo !