A month of intense courtship ends in rejection
When Pfizer, the inventor of Viagra, announced on 28th April its interest in acquiring AstraZeneca,  the latter's shares jumped by more than 14% and kept investors on the edge of their seats during a whole month as they watched the bid rise higher and higher, but not enough for AstraZeneca's leadership to surrender to such courting.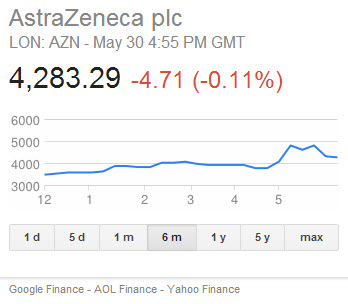 Whereas AstraZeneca's shares were worth £37.81 in mid-April, Pfizer's £55.00 final offer was still deemed not attractive enough, and one may wonder what makes AstraZeneca's boss Pascal Soriot so confident that his company is worth more than the 45% premium Pfizer was prepared to pay.  Now, it's "game over", this dramatic game of poker saw AstraZeneca's shares climb to £43.28, and they have continued to hover within the £42.50 to £43.00 space since rejecting the Pfizer offer.
So is this a realisation by investors that AstraZeneca is worth more than the market had rated until a month ago or, as would appear far more likely,  could this just be the consequence of Chairman Leif Johansson's admission, after Pfizer had declared their £55.00 bid to be "final", that a £58.85 bid might be considered?
Growth projections or bluff?
Worldwide, the levels of investment and effort in bioscience have reached dizzy heights, and major breakthroughs are expected that will revolutionise the treatment of cancer, diabetes, Alzheimer's and other threatening illnesses.  In this race to find the Holy Grail, whoever is first in commercialising these revolutionary drugs wins the prize.  AstraZeneca have argued strongly that they are on the verge of releasing that breakthrough, particularly in the area of cancer treatments, but competitors such as Novartis, Merck or Roche are also in that race and it will be tough.
The dramatic escalation of Pfizer's bids and AstraZeneca rebuffs has now placed self-inflicted pressure on the latter's management; substantiating its self-assessed value assumes that AstraZeneca's revenues will grow by 75% over the next eight years.  This will require not just one but several breakthrough drugs and those hopes could be dashed if competitors come up with similar drugs within that same timeframe.
Call in the politicians for some emotional debate
In retrospect, it is also possible that Pfizer may have chosen a bad time to launch its bid. Beyond the mere question of money (which in itself was not negligible as AstraZeneca proudly declined the industry's largest ever deal), much of the debate will have focused on the future of bioscience and Britain's role as a worldwide centre of excellence in that field.
Having that debate whilst European parliament and local elections in Britain were taking place gave politicians from every party a golden opportunity to voice their thoughts, each of them pledging to be defending the national interest.  This will have almost certainly boosted AstraZeneca's confidence in its pursuit of continued independence.
Wait three months, or seek a less demanding bride?
Now that the courting has failed, British law requires a minimum three month wait before Pfizer is allowed to attempt luring AstraZeneca again.  How big will the diamond ring need to be this time?
Whereas many analysts are skeptical about AstraZeneca's ability to achieve anything close to the very ambitious goals it has set itself to justify the high premium over its current share price, Pfizer's offer of £ 55.00 assumes that such a bold plan could indeed be achieved, but then one should wonder how Pfizer could hope to generate even more value beyond that point to derive any benefit from this massive acquisition.
Once the current excitement and frustration have cooled off, Pfizer might be glad they have not over-stretched themselves in acquiring a major competitor at its maximum price.  If mergers and acquisitions are about creating value rather than just becoming the biggest guy in one's industry, I think there could be some benefit in seeking out smaller pharmaceutical companies whose product pipeline could complement Pfizer's declining R&D productivity and which could benefit from Pfizer's scale and commercial presence: that would constitute a real win-win.
She loves me, she loves me not …
Several of AstraZeneca's significant shareholders would have been happy to take the money and run when Pfizer offered them £ 55.00, cashing in today instead of waiting for value which is being promised to them in the future based on a very uncertain plan.  But human nature is such that no one can face the embarrassment of a U-turn, coming back on a "final offer" or saying "oh why not" after having said "no".
Many analyst still expect Pfizer to come back to the negotiating table in some months from now. However if that does not occur, some powerful and very frustrated shareholders will be holding Pascal  Soriot to ransom in delivering his ambitious plans and revealing those miracle drugs we are being promised.  There could be difficult times ahead.
… in the meantime, the elections are over and bioscience has abruptly fallen off the radar screen of the politicians who only two weeks earlier were desperately arguing in favour or against the Pfizer deal in typical cacophony.  Maybe the three month cool-off period will do them some good too.